Welcome to Fitness the Holistic Way, founded as result of many years of personal experience, education and continuous further studies.

My name is Katya, I have great passion for women's fitness and offer general personal training, specialising particularly in areas I love such as Exercise For The Older Adult, Ante and Postnatal Exercise, Walking Levels 1-3, Running, Nutrition / Weight Loss and Rehabilitating Sports Injuries. Additionally I teach Stress Management, Breathing Techniques, Meditation and Reiki Healing. I am also studying complementary therapies and counselling.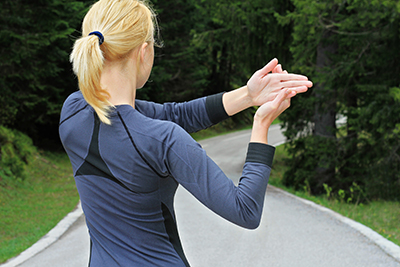 My aim is to take you on a "complete" holistic fitness journey step by step, inspired and designed to assist your physical development and growth in the most effective way: where Body, Mind and Soul will gradually, naturally, and gently merge as one... blissfully bringing you the Perfect Balance.

My mission is to guide you to discovering, experiencing, treasuring and therefore retaining all the beneficial effects, so they willingly remain within you as part of your everyday routine.

Life has many challenges to overcome and we can often get lost along the way, however we eventually find the right path which is mostly determined by our own choices and decisions.

My knowledge, empathy and intuition offers a different approach to the often totally rule driven and restricted approach of "just fitness..." The knowledge I offer is not just from studied theory but from a lifelong firsthand experience including competitive sports environment, overly crowded city gyms, lack of green spaces, fast paced career, through to pregnancies, births, motherhood, and age related physiological changes.

I will give you my total commitment and devoted understanding from which we will establish a foundation to work from, creating steps which will assist you by giving you energy, a sense of purpose and wellbeing.

I welcome clients with the wish that they can be themselves, accept where they presently are, trying to leave the competitive element behind as our society is too often dominated by constant competition and wanting to strive for "perfection". It is when perfection is not achieved that anxiety often sets in.

Fitness the Holistic Way will help you to move forward, discover yourself and find your own natural balance, encouraging a Mind, Body and Spirit approach. We start by inhaling what is needed, exhaling what is no longer needed as the body achieves what the mind believes.

If this reflects with who you are and what you believe in Fitness the Holistic Way will benefit you.